The TFA Dostmann Thermowire is a temperature sensor for Smartphone and Tablet. Connected to iPhone, iPad or iPod touch it measures the temperature of roasts, steaks, poultry and other dishes.
Insert the temperature sensor TFA Dostmann Thermowire into the meat and connect it to the smartphone via a cable – done!
The TFA Dostmann Thermowire
Stands for the new generation of roast thermometers. To use the Thermowire, at least one fourth-generation iPhone 4, iPad 2 or iPod touch is required. The temperature sensor can be connected to these devices via the headphone socket. The gadget transmits temperatures between -40 and +250 degrees Celsius to the manufacturer's app, which is available free of charge in the App Store.

Thermowire app with alarm function
If the meal in pot or pan reaches a pre-determined temperature, the app sounds an alarm. The program also offers predefined cooking profiles as well as a timer and stopwatch. You can also create your own profiles. A graphic evaluation shows you the cooking process on request.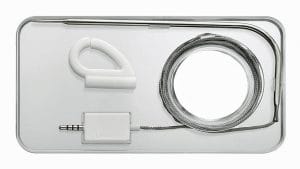 Cooking thermometer made of stainless steel
The Thermowire does not require a battery to operate, the heat-resistant cable has a length of one meter. This allows you to place your iPhone at a safe distance from the stove. Manufacturer TFA Dostmann offers the stainless steel puncture thermometer in black and white for 36.95 dollars.
If you are looking for a Laser Digital Thermometer, the Etekcity Lasergrip 630 may be the better choice.